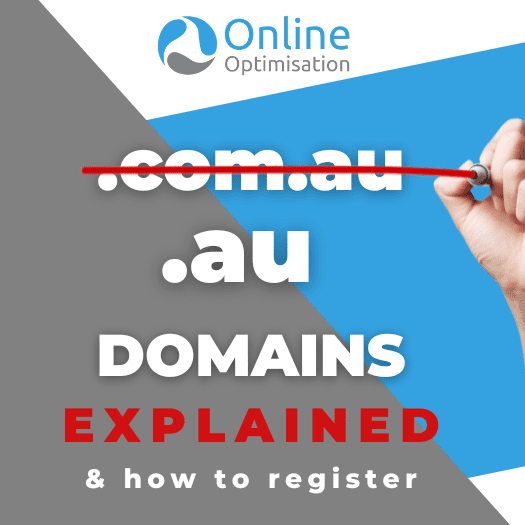 .au domains explained & how to register
We have created this post to help everyone understand what .au domains are. We have been getting a few enquiries about the .au domain names lately and we are hoping this post answers all your questions. Our blog will explain a few things about them and give you some instructions on how to register yours (if you want it) if not registered already.
What is a .au domain?
.au direct domain names – like onlineoptimisation.au – are shorter, simpler domain names that are available as a new option for Australian internet users from now. They are not compulsory for you to register and any existing domains you have will still work just fine!
Why would I register for my .au domain?
It is completely optional to register for your .au direct domain name- in fact you might decide not to. However there are instances where we would recommend registering for it- i.e. if your domain is quite highly sought after (like acronyms – mmm.com.au) or if you have direct competitors who might consider registering the name and begin using (which could confuse your customers!). Remember though, your current domains will still remain operational as they always have done.
Who is eligible to register?
.au direct names are general purpose – meaning they're open to anyone with a verified connection to Australia who wants to create or manage an online presence for themselves or their organisation. However, if you currently hold a domain name in any other .au namespace (eg. com.au, id.au etc.), you'll be able to apply for Priority Status to register its exact match in .au direct during the six-month period from launch, with the cut-off being 20th September 2022.
Exact matches will be put on Priority Hold for the Priority Application Period to prevent them from being registered by others and to enable existing registrants the first opportunity to register (Priority Status) the exact match of their existing domain names.
How do I register?
Online Optimisation is a registered reseller of domains, and there's a good chance your current domain/s are registered through us already- if so, then the process is very simple! Simply head to our reseller account at the below link and remember to use your login details if you have them handy. If you're unsure on these, simply reach out for help. If you do not have your domain/s registered through us, you will need to reach out to whomever you registered them with- e.g. crazy domains etc.

What happens if someone else also has my domain in a different name space?
In some cases there may be more than one applicant for the same .au direct domain name as there are different registrants that hold the same domain name licence in different namespaces.
Fictional example below:
John Foskett is the registrant of onlineoptimisation.com.au
Jo Bloggs is the registrant of onlineoptimisation.net.au
Both are registrants eligible to apply for onlineoptimisation.au
In these cases, the .au direct exact match will be allocated according to the Priority Allocation Process.
What's the Priority Allocation Process?
In the above cases the .au direct name will be allocated according to priority categories determined by the existing domain name licence creation date and the priority cut-off date of 4 February 2018. Meaning whoever registered theirs first, gets first dibs! Read more here if you like
How do I check my Priority Category?
To check your priority category and/ or see if there are other registrants eligible for the .au direct name you seek, simply head to this link: https://www.auda.org.au/tools/priority-status-tool Category 1 have priority over Category 2 for applications.
So what about other .au domain names I'm interested in?
You can register for your desired .au domain straight away if it's available, however there is a possibility someone else may have priority access to register this first and will have what's called a 'Priority Token'. If that's the case, then you will need to wait until October 4th and try to register it then if it's not already been taken, when all unregistered .au domains are released to the public. Head to the following website for more information on this: https://www.auda.org.au/au-domain-names/au-direct/priority-allocation-process
What happens if no-one applies to register for the .au domain?
As above- If there are no applications for a reserved .au direct from an eligible registrant name during the six-month Priority Allocation Period, that name will become available to the public on a first come, first served basis at the close of the Priority Allocation Period.
Should I start using my .au domain moving forward? How does this work?
This decision is entirely up to you. A lot of businesses use their current domain in their marketing materials for example, so changing this could be a not-so simple process. Some businesses want to register for their .au domain simply for the peace of mind that no-one else can. If you do decide to actively use your .au domain name, please reach out to us about possibly setting up a redirect on any current domains you have.
PHEW! That was a lot to take in. Please know that if you have questions or are getting stuck on anything, please don't hesitate to reach out and we would be happy to help.