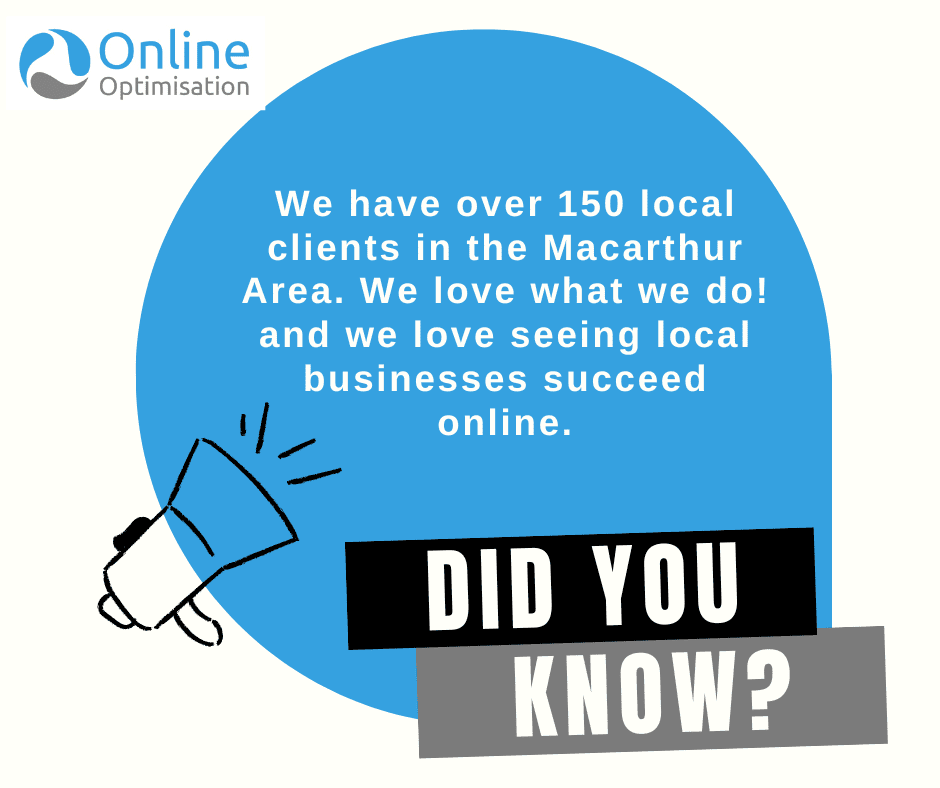 Did you know?
We have over 150 local clients in the Macarthur Area. We love what we do! and we love seeing local businesses succeed online.
We have been servicing the Macarthur area for over 15 years. We offer managed plans, SEO, Fulfilment Systems, E-Commerce, Website Designs, CMS and SEM.
One of the first steps we do when you contact us, is we ask you to fill in our worksheet. The reason we do this is the more information you give us the better the solution we will be able to provide. It's your opportunity to tell us why you need a website and what the website should achieve.
After we receive your completed worksheet we then get back to you with a proposal. Some of the questions we ask are.
Who are the decision makers?
What services do you offer and what do you do?
Your budget (We do this so we don't suggest options way outside your budget) We have packages for all budgest whether it's big or small we can offer you the best solution.
Tell us about your ideal customer. Who are they? Age, Gender? etc
What success looks like to you?
Are you interested in Marketing your site.
If you are interested in getting a quote from us  Click here to start the process and fill in our worksheet.
With over 150 clients we deal with many different industries. We like to call ourselves Macarthur's web specialists.  Like the bright orange liquid amber leaves lining Camden Valley Way in Autumn, or the sounds of St John's bells at Midday – there's some things that we know are quintessentially Macarthur if you're a local. One thing that's for certain is the sense of community in our 2570 postcode and why for the past 15 years we've proudly serviced so many local clients to help them achieve online success, and they place enough trust in us to refer us on to others. Being based in Camden gives us a distinct advantage not offered by city agencies as well- we are locals that want to work for locals. There really is no need to look further than your very own backyard to get the top notch support you need for whatever your online project is.
Our clients come from areas all over Macarthur such as Camden, Narellan, Harrington Park, Oran Park, Gregory Hills, Wilton, Bringelly, Campbelltown, Mount Annan, Spring Farm, Cawdor, too many local areas to list.
We work with builders, beauticians, tattoo artists, custom home builders, online stores, clothing stores, florists, butchers, spare parts, mechanics, plumbers, electricians, accountants, lawyers the list is endless… We love working in Camden and hearing about new projects. Creating success online is our passion.